QuietCool Evaporative Coolers
Have you ever watched productivity and work quality fizzle as your work area heat stress takes it's toll?  How many times have you wished air-conditioning equipment and cost of operation were feasible?  Consider the enormous potential in your productivity and performance that the Portable Evaporative Coolers can unlock!
Portable Evaporative Coolers are constructed of corrosion and conductor-free polyethylene.  Your inputs are inexpensive 110 volts and environmentally friendly water supply, such as a garden hose, with no Freon or compressors to contend with.  Our customers frequently say that they feel they were paying for coolers even when they didn't have them – in reduced productivity and quality of work!  All this while helping workplace heat stress safety, too.  Count on Ag & Industrial Equipment to work for you to match up cooling capacity with you work and play heat stress areas while keeping it budget friendly!
Standard Features:
 Easy to operate – needs only water and electricity
 Constructed of roto molded corrosion free polyethylene
 Cooling media is a cross corrugated angle fluted cellulose material treated with thermo setting resin for long life and efficient cooling
 Water supply is standard garden hose
 Power supply requires 120 volt
 Portable – standard 4″ casters – 2 fixed, 2 swivel for straight line portability
 Virtually maintenance free, no Freon, no compressors to contend with
 High volume cooling – up to 10,900 CFM depending on model
 Filters and cleans air as it passes through cooling media
 Fan – industrial duty aluminum construction
 Fan Motor – Energy efficient – built to last
 Water Pump – Energy efficient, maintenance free and corrosion resistant submersible water pump
 Energy efficient – no waste
 Virtually "Free Cooling" operates for just pennies a day
 Discharged air is up to 26 degrees cooler
---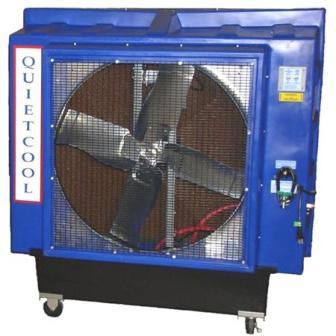 Standard 36″ Model – QC36B1
Belt Drive – 1/2 hp 1 s because we keep them in stock.
Fan – Industrial duty 9,700 @ .15 SP
Motor – High efficiency, totally enclosed ½ hp 120v 7.4 Amps
Pump – Submersible 1/6 hp 120v, 5 amps
Total amps12.4
Total  watts1488
Size 61 1/2″ W
Other Models Available!
---
Maintenance Free – Engineered by our Father and Son team of engineer's and manufactured to be virtually maintenance free.
Easy to operate – Needs only tap water and electricity to operate.
No waste – Engineered to be highly efficient, no water is wasted.
Easy to move – Completely portable, so anyone can roll it quickly to any hot area. Comes standard with straight and swivel casters.
Air flow – QuietCool is tested for maximum air flow at operating static pressure – ensuring you maximum air flow.
Amazingly Cooler Air – Discharged air is down to 26ºF degrees cooler than the incoming air. Amazing.
Filtered Air – Filters the air as is passes through the water saturated cooling media – eliminating many air borne particles.
Plus – Portable 60 gallon water reservoir is available where no water supply is readily accessible. Large 10″ semi-pneumatic rough terrain wheels available too.
Note: The QuietCool Portable Evaporative Cooler has ETL Approval #9800103 which conforms to UL standard 507.
---
Cool Off These Hot Areas!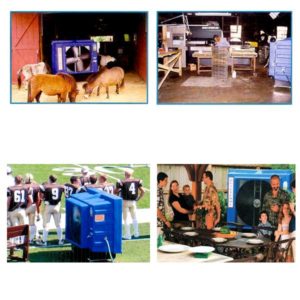 Auto Shops * Manufacturing Shops * Greenhouses * Kennels * Gym Activities * Disaster Relief Centers * Factories * Tent Activities * Sporting Events * Campground Activities * Amusement Parks * Loading Docks * Agricultural Areas * Restaurant Patios * Festivals * Football Benches * Military Installations * Golf Driving Ranges