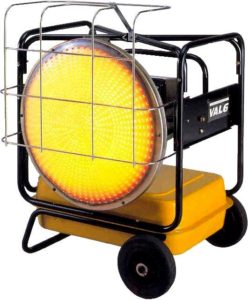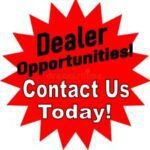 KBE5S state of the art combustion chamber enables virtually 100% fuel to energy conversion. This translates to clean, odorless, smokeless operation and, more importantly, fuel savings with the KBE5S.
Impervious to nature's elements (wind, rain, and snow), it's able to transfer infrared heat directly to the object without any loss of heat or air movement.
Safety features include a tip over sensor and an over voltage detector.
---
Advantages
RADIANT HEAT – Heat penetrates evenly like heat from sunlight.
OUTDOOR USE – VAL6 is not affected by wind, unlike forced air heaters that suffer from  heat loss in the ambient air.
HEAT TRANSFER – VAL6 generates infrared heat directly to the object without any air  movement creating a dust-free comfortable environment.
ODORLESS – A clean combustion system produces no odor or smoke while running.
ENERGY SAVINGS – VAL6's state of the art combustion chamber enables virtually 100%  fuel to energy conversion.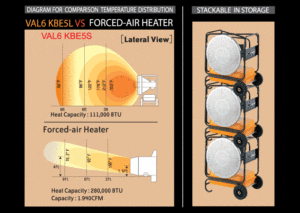 Radiant heat travels in a straight line, unlike hot air, its unaffected by wind by wind or cold ambient air.  Since infrared heat can penetrate into the object, the targeted surface and object are warmed and/dried in a uniquely different way from any convectional heater which utilizes heated air.
---
KBE5S Specification Chart
| KBE5S | SPECIFICATIONS |
| --- | --- |
| Heat Output | 111,000 BTU/Hr |
| Nozzle | 0.85 gal/hr |
| Fuel | #1 Diesel or Kerosene |
| Tank Capacity | 9 Gallons |
| Power Source | 120V 60Hz |
| Power Consumption | 100W |
| Safety Device | Flame Monitor / 3A Fuse / Tip-Over Switch |
| Adjustable Disk Angle | Tilts upward 20° |
| Dimensions (HxWxL) | 36.1 x 25.8 x 27.7 (inches) |
| Dry Weight | 83.8 Lbs |
---
Optional Accessories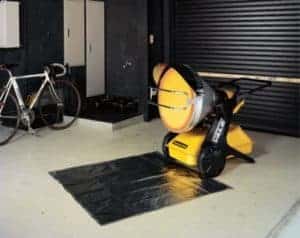 To prevent fire or damage to combustible floor surfaces, always use a "Heat Shield Mat" when operating VAL6 heaters.
---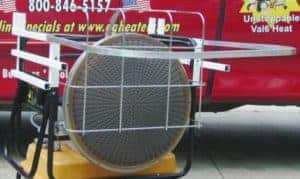 Under cold conditions, the urgency to warm up with your Val6 radiant space heater can sometimes over-ride caution. The preventative Safe-T-Halo is highly regarded as a common sense safety complement option.  Safe-T-Halo assembly includes mounting rails, replacement bolts and special design Halo and also includes self-store slots so Halo can be in upright-store position when moving through doorways or in off-season. * Model in picture may vary.
---
NEED MORE INFORMATION?  Click our downloads.
---