MacroAir Fans are high volume, low speed (HVLS) fans that will reduce your industrial facility's heating and cooling expenses throughout the year. These highly efficient fans can reduce 30% or more of your HVAC expenses by pulling air from the floor to the ceiling and distributing it all evenly throughout your facility. HVLS Fans can even make your space feel 8-10°F cooler than actual temperature!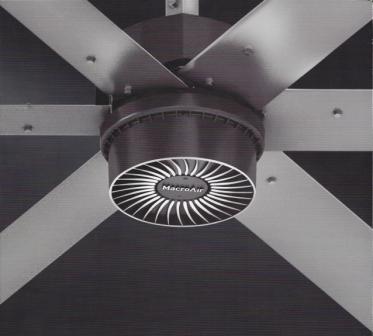 Quieter, More Powerful, and Longer Lasting
MacroAir fans feature a direct-drive motor that is sleek and silent. These big commercial fans are perfect for stylish interiors, yet tough enough to work outdoors.
NASA-inspired Blade
MacroAir fans have blades with the perfect contour for moving air while putting minimum strain on the motor, making them longer-lasting and more durable than our competitors.
Energy-saving
MacroAir fans, by the inventor of the HVLS fan, is the only manufacturer to offer a 24-ft fan featuring a direct-drive motor. Our fans can reduce your energy bill by up to 30% during both summer and winter.
Rotation Innovation
Now all MacroAir fans feature a direct-drive motor that's so efficient that it has only two moving parts, yet produces more power than other big commercial fans.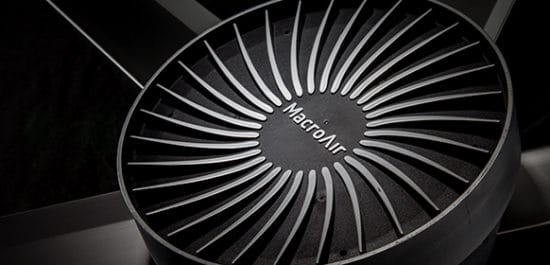 EnergyLogic chose MacroAir because they're the original inventor of the HVLS fan and remain the market leader today. Big Ass Fans was actually MacroAir's first distributor if that tells you anything about MacroAir's quality.
HVLS Ceiling Fans
If you are preparing for the upcoming dog days of summer, then it's time to consider a high volume, low speed (HVLS) industrial ceiling fan. From the start, the options can be overwhelming, especially when trying to decide which brand of fan is best for your business. To help you, we're comparing a few features of two of the top HVLS fan brands on the market, MacroAir Technologies® and Big Ass Fans®.
MacroAir Fans
MacroAir is located in San Bernardino, CA and is the company that coined the term and invented the category of HVLS ceiling fans. After releasing their first ten blade fan design, MacroAir continued innovating and has firmly led the HVLS fans category by embracing new technologies and listening to their customers along the way. In the years since their founding, MacroAir has continued to innovate the HVLS market, having been the first to introduce their NASA-designed 6ixBlade™ technology.
Big Ass Fans
Big Ass Fans is located in Lexington, KY and was MacroAir's first distributor. Since then, Big Ass Fans has carved out their own place in the industry and developed an assortment of HVLS fans with features similar to MacroAir's models. Today, many of their products continue to utilize technology similar to the original MacroAir designs and technologies of the past.
At first glance, it's hard to know what to look for and what the differences are. But digging a little deeper, there are some key technical differences between these two brands that you should be aware of before making any purchasing decisions.
See How They Compare
In 2012, MacroAir decided to put their product to the test in the heat of summer by doing a head-to-head comparison between a 24ft 6ixBlade™ MacroAir AirSpan HVLS fan and a 24ft, 10 blade Big Ass Fans Powerfoil® X2.0. It's safe to say that MacroAir was the clear leader, but don't just take our word for it. Listen to the numbers.
With only six blades as opposed to ten, a fan like the AirSpan weighs 12% less than the Powerfoil X2.0 at 236lbs. A lighter fan and fewer blades means less stress on the motor and other parts of the fan leading to a longer life for the product.
In addition to these crucial performance features, MacroAir continues to innovate the products. MacroAir has managed to drive out much of the bulk and weight of their older models.
| Blade Diameter | Horsepower | Hanging Weight | RPM | Power Usage | CFM | Industry Spacing | Max. Affected Area |
| --- | --- | --- | --- | --- | --- | --- | --- |
| 12 ft | .25 HP | 86 lbs | 66 | .14 kW | 54,000 CFM | 48 ft | 3480 ft² |
| 10 ft | .25 HP | 81 lbs | 101 | .25kW | 52,000 CFM | 40 ft. | 2,607 ft² |
| 8 ft | .25 HP | 74 lbs | 146 | .32kW | 40,000 CFM | 36 ft | 2,160 ft² |
| 6 ft | .25 HP | 69 lbs | 151 | .11kW | 18,000 CFM | 28 ft | 1,300 ft² |
Call us for more details!