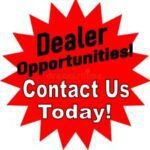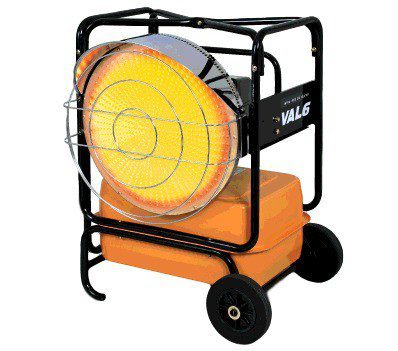 The newly upgraded KBE5L 2-Step is now equipped with a High and Low output control making it very economical. Also included is a Fuel pre-heater to keep fuel moving smoothly as temperature decreases.
KBE5L 2-Step state of the art combustion chamber enables virtually 100% fuel to energy conversion. This translates to clean, odorless, smokeless operation and, more importantly, fuel savings.
Impervious to nature's elements (wind, rain, and snow), the KBE5L 2-Step is able to transfer infrared heat directly to the object without any loss of heat or air movement.
ENERGY SAVING – Selecting a low combustion can make fuel consumption lower.  This means that this heater can save you operation cost.  For example, in early winter if the heater operates with a low combustion, it can save 1.2 gallons a day, 24 gallons a month.
Advantages
Sunlight Warmth – VAL6's radiant heat penetrates evenly and directly into surfaces just like sunlight.
Best Choice for Outdoors – VAL6 is not affected by wind, unlike forced air heaters that suffer from heat loss in the  ambient air.
Heat Transfer – Generates infrared heat directly to the object without any air movement creating a dust-free  comfortable environment.
Odorless – Perfect combustion system produces no odor and no smoke while running.
Energy Savings – State of the art combustion chamber enables virtually 100% fuel to energy conversion.
Portable – This heater can be taken virtually anywhere that you need heat.
KBE5L 2-Step Specification Chart
| KBE5L 2-STEP | SPECIFICATIONS |
| --- | --- |
| Heat Output | High: 118,000 BTU/Hr, Low: 100,000 BTU/Hr |
| Fuel Consumption | High: .90 Gal/Hr, Low: 0.75 Gal/Hr |
| Tank Capacity | 15 Gallons |
| Fuel | #1 Diesel or Kerosene |
| Power Source | 120V 60Hz |
| Power Consumption | In Ignition: 150W, In Operation: High: 120W |
| Safety Device | Flame Monitor / 3A Fuse / Tip-Over Switch |
| Dimensions (HxWxL) | 36.3 x 28 x 29.2 (inches) |
| Dry Weight | 92.6 Lbs |
NEW Features of the KBE5L
2-Step Output Control
High and low output control is equipped.  It enables its user to choose between a high or low output thus making it very economical.
Fuel Preheater
As ambient temperature decreases, viscosity increases.  To counterbalance this effect, a heater is built into the fuel line to keep the fuel moving smoothly.
Optional Accessories
Val-Mat Heat Shield Mat
To prevent fire or damage to combustible floor surfaces, always use a "Heat Shield Mat" when operating VAL6 heaters.
KBE5L Safe-T-Halo
Under cold conditions, the urgency to warm up with your Val6 radiant space heater can sometimes over-ride caution. The preventative Safe-T-Halo is highly regarded as a common sense safety complement option.
Safe-T-Halo assembly includes mounting rails, replacement bolts and special design Halo and also includes self-store slots so Halo can be in upright-store position when moving through doorways or in off-season.
NEED MORE INFORMATION?  Click our downloads.
---