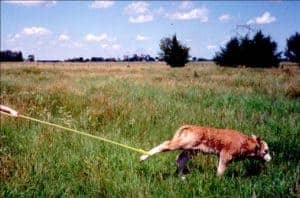 Safe-T-Katch Calf Catchers
Dairy and cow calf profits are directly affected by newborn calf health.  Every untreated (or treated too late) sick calf costs you gain and costly unnecessary medication.  The calf also has more chance to pass the bug around.  Safe-T-Katch Calf Catchers can help!
Over Years of Use, it Costs Just PENNIES per Calf per Year!
You get more for your money with SAFE-T-KATCH!  Durable, versatile tools that cut down time and risk for you and your crew!
 Fully cushioned, plastic covered steel tool – AVOIDS BRUISES
 Hook shape lessens kick-out escapes
 Lightweight, yet strong and durable
 Easy to use, one size fits all
 Eliminates rodeo-style rundown
 Easy to carry – one hand operation keeps other hand free
 Two versatile lengths – 6 ft or 3-1/2 ft.
Sate-T-Katch Calf Catchers Field Tested on Over 175,000 Calves!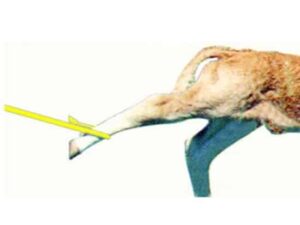 Increases the percentage of success on first try catches
 Makes treatments more effective because sick calves can be caught earlier and easier
 Makes doctoring and tagging newborns easier
 Saves time and decreases hazard by keeping calf and cow calmer and quieter
 Reduces stress on calf, mother cow and handler
NO Moving Parts * NO Screwing Together Parts * NO Folding * NO Assembly * NO Weak Points
One Piece Strength For Years of Service!
Safe-T-Katch Calf Catchers