The VAL6 series lineup has everything you need in a space heater. Whether you're looking for portability, efficiency, power, or all of the above, the VAL6 series has the perfect heater for you.
Do you have a garage, shop, calving facility, working chute, or other uses (indoor or outdoor) for a portable radiant heater? For operations that need an efficient heater capable of providing effective radiant heat to a wide range of indoor/outdoor applications, we have a clean, quiet, economical, go-anywhere, diesel-fired radiant heater that makes more work sites workable, comfortable and productive. We have many sizes of the VAL6 Portable Radiant Heaters that let you enjoy your sun-room, fishing hut, duck blind, snowmobiling activities, drying of paint and adhesives, asphalt and concrete preparation and many more!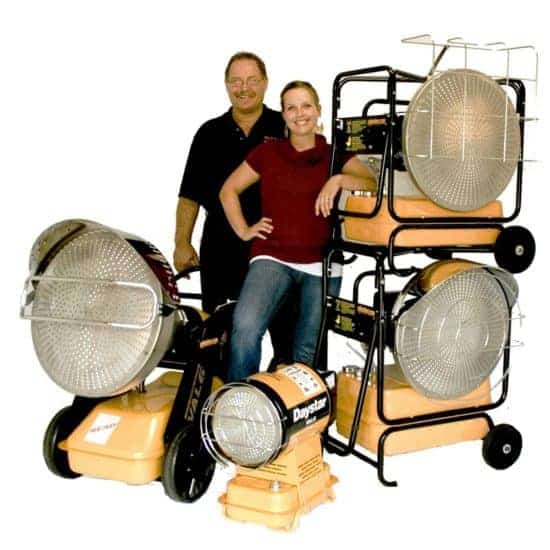 Sunlight Warmth – VAL6's radiant heat penetrates evenly on and into surfaces just like sunlight.
Best Choice for Outdoors – VAL6's performance is unique in the outdoors and unlike forced air heaters, which lose heat from wind and cold air.
No Air Movement / Dust Free – VAL6 generates straightforward infrared heat which is unaffected by air flow, thus creating a comfortable and dust-free environment.
Odorless – VAL6's perfect combustion system produces no odor and no smoke while running. The exhaust gas goes upward.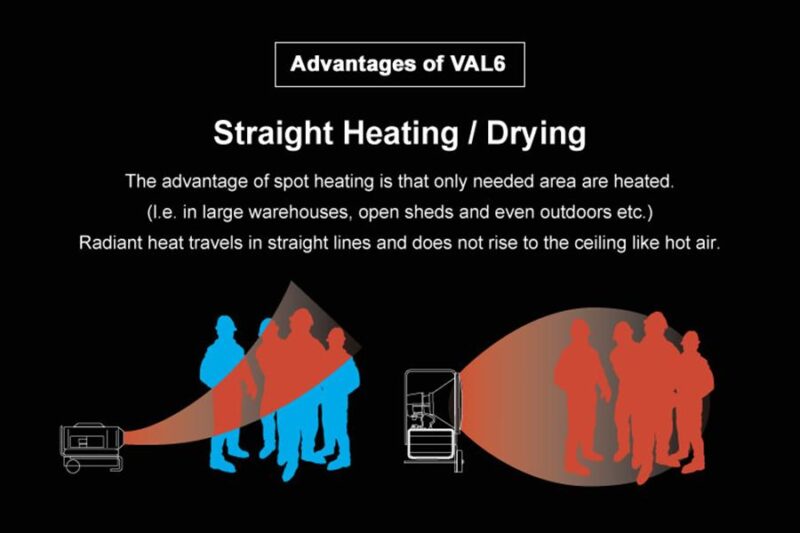 Our VAL6 Distributor Area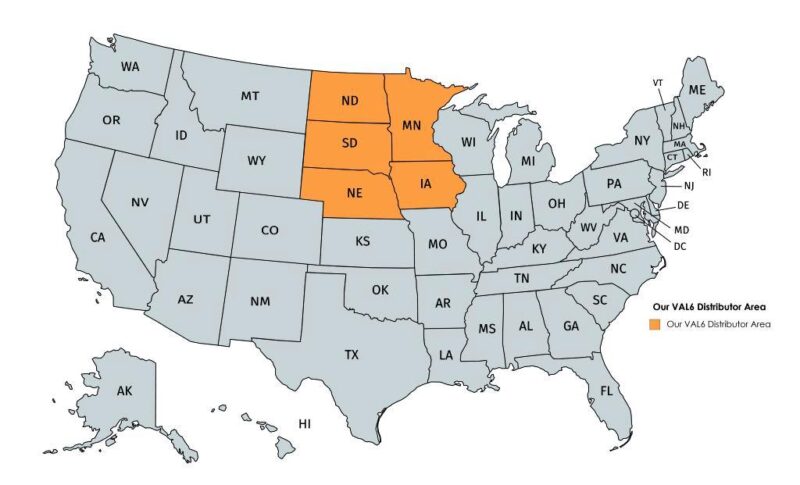 VAL6 Portable Radiant Heaters are the most efficient heater per BTU on the market today.
VAL6 Portable Radiant Heaters are very effective even under conditions of snow, wind or rain.
VAL6's effectiveness in heating objects in target areas eliminates heat loss to ambient air.
VAL6's directional infrared penetrates into objects which re-radiate heat resulting in quicker drying times and better overall heat retention.
VAL6's penetrating infrared rays heat people quicker and more efficiently, resulting in a longer lasting, more comfortable heating effect. (Unlike conventional heaters which only heat the air).
VAL6's infrared heat creates a comfortable environment.
VAL6 emits no smell or smoke while operating and has low noise levels and virtually undetectable carbon monoxide emissions.
VAL6 costs much less to operate because it uses far less fuel than conventional heaters.
Testimonials
My trusty ole' val 6 took a tumble down the highway this week. When I rounded a curve at around 35 mph and the strap holding it broke, not sure how far it tumbled??? Loaded her back up (used a heavier strap) put fuel in her and the next morning it fired right up just as it has for the last 12 plus years!!! Hands down the best piece of equipment I have ever bought as far as toughness, durability, and reliability. Thanks Jim.
Hoof Man Inc. – Inman, NE
We calve about 300 cows and use a VAL6 Radiant Heater to help. We've easily saved 30+ calves when the weather would get tough. We put the calf in front of the VAL6 and the calf is usually steaming and standing in under a half an hour. The VAL6 has paid for itself many times over. We are so happy we are buying another VAL6.
Chris M – Colon, NE
I bought an EPX and EconoDri about 4 years ago. Very happy with grain drying and use in shop.
Joe H – Wahoo, NE
Val6 Radiant Heater Parts